from COO

For your Needs, Our Proactive Solution.
Our company originated from the Matsumoto Chemical Institute—an R&D and manufacturing unit of Iwashiya Matsumoto Ihei Shoten (currently Matsumoto Trading)—established in Ichikawa, Chiba in January 1939, which started business as a contract manufacturer of cosmetic products. Under the current name Matsumoto Fine Chemical, our company has been very well-received by customers as a supplier specializing in the manufacture and sale of organometallic compounds "ORGATIX" since the 1960s.
Our current core products of organometallic compounds are compounds made by creating an organic reaction on a central metal such as titanium, zirconium, silicone and aluminum. These products are used by a diverse range of industries and customers as catalysts, hardeners, cross-linking agents, surface treatment agents and coupling agents, as well as for basic chemicals, inks, paints, electronic materials, metals, glasses and plastics. We take great pride in our strengths, which include customization based on customer needs for special volumes, prescriptions and packaging; the development of original products that satisfy customer requirements; and the ability to make prompt proposals.
In recent years, the chemical industry has come to require a higher level of environmental friendliness in product development as the result of the global introduction of laws to control chemical substances, the revised RoHS Directive, and the updated REACH Authorisation List. To this end, we will make further efforts in our R&D activities while introducing new measurement, analysis and manufacturing equipment to improve our manufacturing environment so as to fulfill the different needs of customers who require products with ultra-high purity.
By visiting customers and providing product demonstrations and technical seminars we are committed to the timely delivery of the latest technological information, while offering satisfactory product development that fully caters to customer needs. Thank you for choosing our products and your continued custom.
COO
Shinji Omori
Philosophy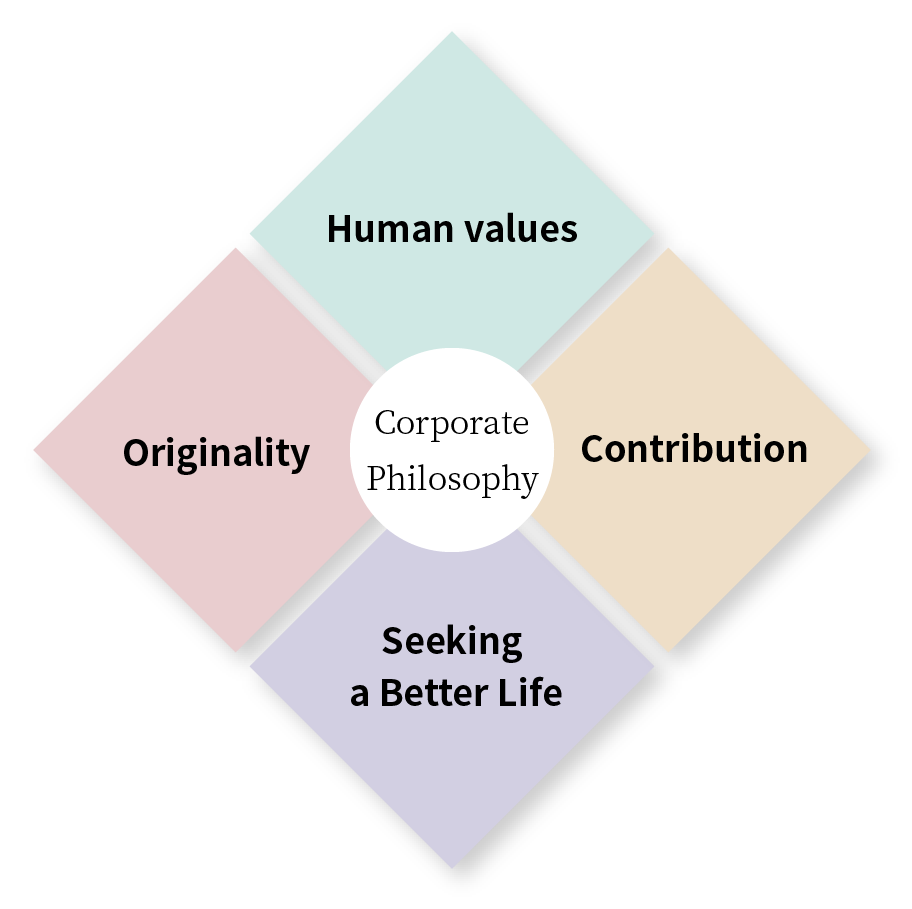 Respect for Human values

Human Development with Fairness and Equal Opportunities

1.Equal opportunities for status and pay promotion through fair assessment system
2.Equal oppotunities irrespective of gender, full emplayees or part-time workers

Good Communication and Sincere Thankfulness

1.The annual letter from the president to the employees' families reviewing the past year and expressing thankfulness
2.Promotion to Call each other by personal name(―san), not by title of their business position
3.Hold a party of thanks for "Matsumoto OB' Club"

Respect for Making Contribution

Contribution to Society

1.Product development base on "Environment" and "Health"
2.Select Eco-friendly raw material (Environmental conservation agreements support)

Community contribution policy

1.Activities of solve regional affairs with Chamber of commerce
2.Support "Aid activities Edgawa"
3.Local based by Safety first(commended as superior disaster prevention office)

Respect for Originality

Develop technical skill

1.Invested 10% of sale to create only one product
2.Produce unique product by technical discussion and joint study with University
3.Bounty of patent and engineering improvement
4.Held technical lecture meeting

Coaching and promote unfettered thought

1.Draw pictures with our corporate philosophy as themes
2.Support employees for self-improvement , by offering opportunities to participate seminars , correspondence courses , or English conversation classes to employees
3.New employee training, public meeting of management and staff

Respect for Seeking a Better Way of Life

Improvement of Life Quality

1.From seniority system to Capability-Qualification system, further toward the system based on business result / job classification
2.Bonus assessment based on count of positive points earned
3.Support for educational and training expenses

Toward Peace of Mind and Good Health Care

1.Aid system by " Matsumoto Medical Fund " to cover expensive medical expenses
2.Assistance system is available to receive other specific medical checks (such as intestine , lung cancers) in addition to regular health checks
3.Health insurance is provided for directors , general managers and deputies
4.Generous accident insurances are provided at the time of business travel abroad
5.System to assist expense for traveling
6.Establishment of Matsumoto Library

Contact
For enquiries (About our puroduct, material information and sample request)
Plase complete the form before to contact us.